EDGE Games ("EDGE" / "THE EDGE" / "EDGE GAMES" ) are corporate and brand names that have been used by various EDGE Games predecessors since first used by EDGE's original predecessor in rights Softek International Ltd in London in 1984. However, "EDGE" (or EDGE Games) is not a U.S. corporation founded in 1990, as some Internet sources falsely state it is. A veteran independent game developer and publisher, EDGE has its origins as one of Britain's longest established computer game publishers. EDGE now operates jointly between Pasadena, California and London, England. EDGE's games are available everywhere worldwide that games are sold. EDGE is a registered developer for PS3®, XBOX360®, Wii® and Apple® iOS platforms in addition to a number of other computer, videogame and mobile device platforms. Most recently, EDGE has launched its new super-fast range of EDGE GAMING PCs with a goal of their being the fastest in the world. Upcoming are more games for iOS and PC including more iterations of EDGE's famous Bobby Bearing franchise.2020 saw the re-launch of the improved version of Bobby Bearing 2 for iOS devices. Latest releases include our eponymously named game "EDGE" released on iOS and Android in November 2021, and the fabulous new games Super Cookie Blast released on iOS and Android May 2022, Wordzle and Palabra released on iOS and Android June 2022, and Word Escapes released on iOS and Android July 2022..
EDGE Games was formed in 1981; first named "Softek Software," the EDGE/THE EDGE and EDGE GAMES brands were adopted in 1984. Also in 1984, EDGE opened its first offices in California. During the 1980s EDGE/THE EDGE was run primarily out of its Covent Garden, London offices. From 1990 onwards operations have been split between the Pasadena, California and London offices. Worldwide rights ownership and operations are split between various EDGE corporations in the U.S. and Europe.
From 1981 to the early 1990s, EDGE published over 100 games on various formats including Sinclair Spectrum, Commodore 64, Amstrad, Dragon 32, Oric, Atari ST, Amiga and IBM PC. Since the mid 1990s EDGE has continuously continued to publish games on a variety of formats, from the CDTV games of the 90s right through to EDGE's game "Bobby Bearing 2: Rerolled" for Apple iPhone®, and iPad® in its latest version in 2020.. Various EDGE Spectrum titles were relaunched on the Recreated Sinclair ZX Spectrum, launched Fall 2015:
CORRECTING THE RECORD
On Bo Jangeborg and Fairlight, on Mobigame, on Future Publishing, on EA, on miscelaneous fake news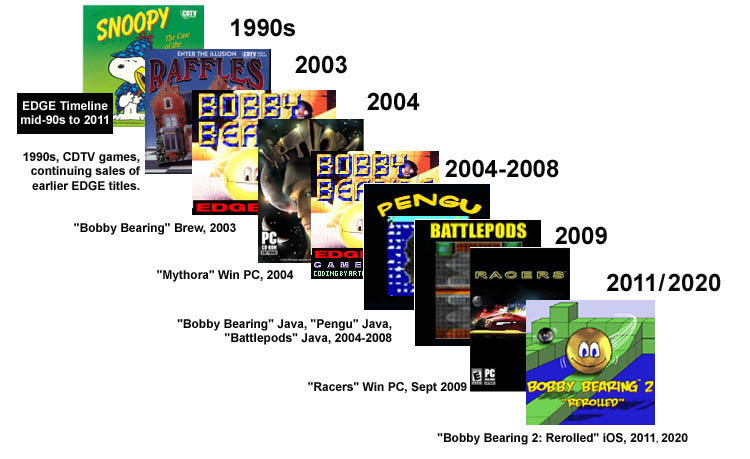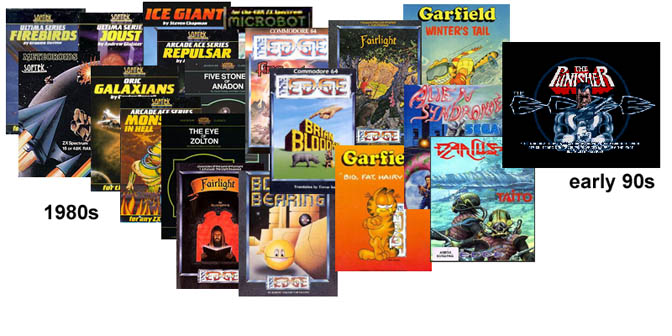 EDGE U.S.A
(Edge Games, Inc.)

Mailing Address and for Deliveries:
530 South Lake Avenue, 171
Pasadena, CA 91101
U.S.A.
T: 626 449 4EDGE (449 4334)
F: 626 844 4EDGE (844 4334)
E: Email
EDGE Europe
(Edge Games, Ltd.)
483 Green Lanes
London, N14 4BS
United Kingdom
Website: Edge Europe
EDGE™/THE EDGE™/EDGE GAMES® (c) 1981, 1984, 2022
BOBBY BEARING, EDGE, THE EDGE, EDGE GAMES, EDGEGAMERS, GAMER'S EDGE are trademarks of EDGE GAMES INC. (c) 1981, 1984, 2003, 2022.
Trademarks belong to their respective owners. All rights reserved. Contact EDGE/THE EDGE